The Energy Report:
Let's talk about the macro-economic picture for Argentina in terms of energy. What is the story there with the country's growing deficit, the devaluation of the peso and the reliance on energy imports?
Bill Newman: Production of both oil and natural gas in Argentina has been declining for years. At the same time, demand has been increasing. This is accelerating Argentina's energy deficit. The Argentina government understands that in order to slow production declines and eventually return to energy self sufficiency, a substantial increase in investment will be required, and a large portion of that capital will have to come from foreign investment. The bottom line is that the government knows it needs to attract capital, and that could translate into modest improvements to the energy sector in order to promote that investment.
In January 2014, we saw a rapid devaluation of the peso. The peso has subsequently stabilized but there is still some risk of further devaluation. Oil and gas is priced in U.S. dollars, which somewhat mitigates the impact of the falling peso. Producers could have lower operational costs in the short term, as most expenses are paid in pesos. Inflation remains a problem in Argentina, and the government is actively taking measures to prevent social unrest by negotiating with unions for higher wages to compensate for the weaker peso. But the government understands that increased foreign investment is one tool that could help to resolve the issue.
TER: Is Argentina increasingly attractive to foreign investors?
BN: It's no surprise that the expropriation of Repsol's 51% holding in Yacimientos Petrolíferos Fiscales (YPF:NYSE) in April 2012 jolted investor confidence. But ever since then, the government has been trying to repair the damage by introducing new incentives to promote investment by energy companies. Argentina has also been working toward improving its reputation on the international stage through negotiations with the debt holdouts, and successfully negotiated a compensation settlement with Repsol (REP:MC) for the expropriated shares. This really is a complete turnaround from the direction the government was taking in early 2012. We think these efforts have reduced the perceived investment risk of Argentina, and that is starting to be reflected by increased investment. If Argentina holds the course, investors should start to focus less on political risk and focus more on the world-class Vaca Muerta shale play.
TER: What is the significance of the YPF $5 billion ($5B) settlement with Repsol?
"Royal Dutch Shell Plc plans to invest $500M in the unconventional shale plays in Argentina in 2014."

BN: A large portion of the land that is prospective in the Neuquén Basin of the Vaca Muerta is held by YPF, so major oil companies looking for a meaningful position in the play might have to complete a deal with YPF. Before the settlement, most companies that were hoping to joint venture with YPF put their plans on hold. The $5B settlement is a signal to the market that the government is serious about repairing its reputation on the world stage, and the move should open the door for new joint ventures in 2014. With the improving outlook, many companies have announced expanded plans for Argentina. Royal Dutch Shell Plc (RDS.A:NYSE; RDS.B:NYSE) plans to invest $500 million ($500M) into the unconventional shale plays in Argentina in 2014, which is approximately three times the amount the company invested in 2013. Also, Petrobras no longer has its Argentina subsidiary up for sale and instead now expects to make a large investment in Argentina this year.
TER: What is the story behind the $1.6B joint venture Chevron Corp. (CVX:NYSE) recently announced with YPF?
BN: The $1.6B investment is the second stage of the joint venture between Chevron and YPF to develop the Vaca Muerta shale play on the Loma Campana block. The first phase, which was a $1.24B investment, was completed early this year, and production from the Vaca Muerta shale is now about 20,000 barrels per day (20,000 bbl/d). The second investment includes 170 wells, and longer-term plans could include up to 1,500 wells and an increase in production up to 50,000 bbl/d and 100 million cubic feet per day (100 MMcf/d) of natural gas. We see the second Chevron/YPF investment as another vote of confidence for the Vaca Muerta shale play in Argentina.
TER: Who is drilling in the Vaca Muerta play, and with what kind of success?
"Madalena Energy Inc. has been a very active driller in the Neuquén Basin."

BN: According to the U.S. Energy Information Administration, Argentina has the fourth-largest technically recoverable shale oil resource and the fourth-largest technically recoverable shale gas resource in the world, most of which is located in the Neuquén Basin. The EIA estimates that the Neuquén Basin alone holds a recoverable resource of 16 billion barrels and 308 trillion cubic feet of natural gas, so that's a massive prize. The supermajors currently appraising the shale include Chevron, Exxon Mobil Corp. (XOM:NYSE), Shell, Total S.A. (TOT:NYSE) and BP Plc (BP:NYSE; BP:LSE) through its ownership in Pan American Energy (PAEYE:NASDAQ). Petrobras (PBR:NYSE; PETR3:BOVESPA) also has holds a significant interest. The three Canadian based junior oil and gas exploration companies that we cover with operations in Argentina are Americas Petrogas Inc. (BOE:TSX.V), Madalena Energy Inc. (MVN:TSX.V; MDLNF:OTCPK) and Crown Point Energy Inc. (CWV:TSX.V).
Recent Joint Ventures and Drilling Activity in Argentina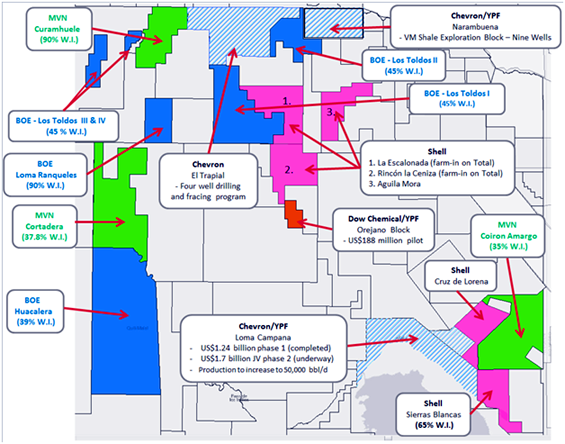 Source: Company reports, Mackie Research Capital
Americas Petrogas holds a very large land base in the Neuquén Basin, which the company acquired many years before the shale play took off. There has been a lot of activity by the supermajors on blocks directly offsetting its Los Toldos blocks. In April 2014, Shell farmed into two blocks held by Total, which are located near Americas Petrogas' Los Toldos I block. Rumors are Shell paid approximately $6,000/acre. Also in April, YPF and Chevron announced another $140 million joint venture to drill nine exploration shale wells on the Narambuena block. Chevron also plans to drill four wells targeting the Vaca Muerta shale on the El Trapial block. A lot of money is being spent on lands very near to America Petrogas' lands, which could help derisk the play. In September of last year, Americas Petrogas announced a formal strategic review process to attract new joint venture partners or buyers, and we think the $5B settlement to Repsol and the increase exploration activity can only help with the process.
Madalena has been a very active driller in the Neuquén Basin. The company recently drilled two Vaca Muerta exploration wells on the Coiron Amargo block, which will be fracture stimulated and tested in Q2/14. The Coiron Amargo block is located within the prime Vaca Muerta shale oil window and just to the east of the Loma Campana block, where Chevron and YPF are drilling. Madalena is also having a lot of success by drilling horizontal wells to achieve high flow rates from the conventional Sierras Blancas formation. So far the company has discovered six Sierras Blancas light oil pools on the Coiron Amargo block. But Madalena has shown the best way to develop the play is with unstimulated horizontal wells. In January 2014, Madalena announced that the CAN.xr-2(h) horizontal well tested up to 2,235 barrels of oil equivalent (2,235 boe/d), and in April the CAN-15(h) well, a second horizontal well targeting the largest Sierras Blancas structure, tested at 1,945 boe/d from only a portion of the horizontal leg. The company plans to drill three more horizontal Sierras Blancas wells this year, which should boost its production in Argentina. Madalena now has two high-impact plays to appraise on the Coiron Amargo block.
Near the Coiron Amargo block, Madalena holds a 90% working interest in the Curamhuele block. The region could be the next hot area for shale exploration. As we mentioned, Chevron plans to drill four wells targeting the Vaca Muerta shale on its El Trapial block, which is directly adjacent to Madalena's Curamhuele block. Madalena also sees a lot of potential in the Lower Agrio formation, which is another shale play on the Curamhuele block. With the success of the Sierras Blancas wells and all the shale wells that are scheduled to be tested, we think Madalena could add a lot of value in 2014.
TER: How are Crown Point's financial fundamentals looking this year, in light of its operational story?
BN: Crown Point's current focus is on growing its conventional natural gas production through a low-risk drilling program in Tierra del Fuego, which is located on the southern tip of Argentina. The company also has conventional and shale oil potential on its 100%-owned Cerro de Los Leones block in the Neuquén Basin. Crown Point didn't drill any wells last year because it was waiting for governmental approval for an extension of Tierra del Fuego concessions, which it has received. Crown Point just started a 10-well drilling program consisting of eight development wells and two exploration wells, so we expect production to grow from approximately 1,600 boe/d to over 2,000 boe/d by year-end. Natural gas prices have been steadily rising in Argentina, which has really improved the economics of the play. Also, last year the government introduced a new natural gas price incentive program that, in effect, sets the natural gas price to $7.50/million British thermal units for production above a baseline. Crown Point has applied for the program, so if the company is approved, it could have a big impact on cash flow. Investment in Tierra del Fuego is really picking up, and a few weeks ago YPF announced plans to invest $700 million ($700M) in Tierra del Fuego over a 10-year period.
One other near-term catalyst is that Crown Point is currently testing the La Hoyada x-1 exploration well on the Cerro de Los Leones block, which it drilled earlier this year. We are hoping for a test of over 200 bbl/d.
TER: Are there any other energy firms that you have your eye on in Argentina?
BN: I've been watching a company call Apco Oil & Gas International Inc. (APAGF:NASDAQ), which is 69% owned by WPX Energy Inc. (WPX:NYSE). APCO is partnered with Madalena on the Coiron Amargo block and with Crown Point in Tierra del Fuego. Apco really has a large land position in the oil window of the Vaca Muerta shale play.
TER: Bill, thank you for joining us today with this overview.
BN: My pleasure.
Bill Newman is vice president of international oil and gas with Mackie Research Capital Corp. He has been an energy analyst for 16 years. Bill holds a Bachelor of Commerce from the University of Calgary and has a CFA designation.
Read what other experts are saying about:
Want to read more Energy Report interviews like this? Sign up for our free e-newsletter, and you'll learn when new articles have been published. To see a list of recent interviews with industry analysts and commentators, visit our Interviews page.

DISCLOSURE:
1) Kevin Michael Grace conducted this interview for Streetwise Reports LLC, publisher of The Gold Report, The Energy Report, The Life Sciences Report and The Mining Report, and provides services to Streetwise Reports as an independent contractor. He owns, or his family owns, shares of the following companies mentioned in this interview: None.
2) The following companies mentioned in the interview are sponsors of Streetwise Reports: Madalena Energy Inc. and Royal Dutch Shell Plc. Streetwise Reports does not accept stock in exchange for its services.
3) Bill Newman: I own, or my family owns, shares of the following companies mentioned in this interview: Crown Point Energy Inc. I personally am, or my family is, paid by the following companies mentioned in this interview: None. My company has a financial relationship with the following companies mentioned in this interview: Within the last three years, Mackie Research Capital has managed or co-managed an offering of securities for, and received compensation for investment banking and related services from Americas Petrogas Inc. and Madalena Energy Inc. I visited the Buenos Aires offices of Americas Petrogas Inc. and the offices of Madalena Energy Inc. on January 27, 2012. All expenses were paid for by Mackie Research Capital Corporation. I was not paid by Streetwise Reports for participating in this interview. Comments and opinions expressed are my own comments and opinions. I had the opportunity to review the interview for accuracy as of the date of the interview and am responsible for the content of the interview.
4) Interviews are edited for clarity. Streetwise Reports does not make editorial comments or change experts' statements without their consent.
5) The interview does not constitute investment advice. Each reader is encouraged to consult with his or her individual financial professional and any action a reader takes as a result of information presented here is his or her own responsibility. By opening this page, each reader accepts and agrees to Streetwise Reports' terms of use and full legal disclaimer.
6) From time to time, Streetwise Reports LLC and its directors, officers, employees or members of their families, as well as persons interviewed for articles and interviews on the site, may have a long or short position in securities mentioned. Directors, officers, employees or members of their families are prohibited from making purchases and/or sales of those securities in the open market or otherwise during the up-to-four-week interval from the time of the interview until after it publishes.