Notable Quotes
"Uranium producers like EFR are going to start popping up on people's radar screens." (5/23/13) Energy Fuels Inc. - The Energy Report Interview with Matt Badiali More >
"The conservative uranium bet is to go with companies making money at current prices. That's FCU." (5/23/13) Fission Uranium Corp. - The Energy Report Interview with Matt Badiali More >
"CHK is active in the Marcellus sweet spot in northwestern West Virginia." (5/16/13) Chesapeake Energy Corp. - The Energy Report Interview with Josh Young More >
"FCU is on to the most exciting uranium discovery to come around in quite a while." (5/14/13) Fission Uranium Corp. - The Metals Report Interview with Brent Cook More >
"Majors like RDS are moving toward gas." (5/9/13) Royal Dutch Shell Plc - The Energy Report Interview with Keith Schaefer More >
Companies
Last:
Change:
Change(%):
Volume:
Open:
High:
Low:
52Wk High:
52Wk High:
Experts Commenting on This Company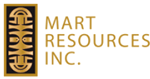 TICKER: MMT:TSX.V
Mart Resources is an international oil and gas company focused on production and development opportunities in low-risk, high-reward proven but undeveloped oil and gas fields in Africa. The company's strategic core assets are located in Nigeria. Current production is projected at more than 30 Mbbl/d in 2011 with significant upside potential in the Umusadege field.
---
The information provided below is from analysts, newsletters and other contributors. Please contact the company and visit its website before making an investment decision.
Expert Comments:
Chen Lin, What is Chen Buying? What is Chen Selling? (5/16/13) "Mart Resources Inc. is paying a ~14% dividend at the current price, which is secure. It has a major pipeline expansion slated for Q3/13 that could triple its oil production, which will likely lead to a higher dividend next year."
Western Investor, Seeking Alpha (5/8/13) "A significant number of positive catalysts are likely to push Mart Resources Inc. to new highs this year. . .production at the onshore field started in 2008 and has consistently increased ever since. . .Mart has also developed a substantial reserve base that has been consistently increasing. . .even after the recent pullback the stock is up about 40% over the last year and nearly 230% over a two-year period. On top of this, shareholders have received $0.25 in dividends within a one-year period. . .management has consistently created shareholder value and demonstrated its willingness to return capital to shareholders."
Fiona MacDonald, Proactive Investors (4/30/13) "Mart Resources Inc. announced that production from its Umusadege field in Nigeria has resumed following the completion of pipeline maintenance and repairs. . .the Umusadege oil field, an onshore oil and gas field located in the North Central area of the Niger Delta basin, contains 13 known reservoirs and substantial hydrocarbon reserves potential, according to data derived from 3-D seismic surveys and evaluations based on existing wells . . .news of the resumption in production saw company shares on the Toronto Stock Exchange up almost 4%."
Chen Lin, What Is Chen Buying? What Is Chen Selling? (4/23/13) "Mart Resources Inc. should have secured dividends coming for a long time. The company is an ultra low cost producer and the margin should have be quite stable even with some drop in the oil price. . .it is a solid stock in the energy space with little downside left, I believe."
Amin Haque, Stonecap Securities (4/23/13) "Mart Resources Inc. is expected to release its FY 2012 results today; we do not expect any surprises given that Mart regularly provides mid-quarter operational updates. For 2012, our estimates are average production of ~5,150 bbl/d (4,941 bbl/d in 2011) from average field production of 7,900 bbl/d. . .cash flow per share of $0.29 ($0.15 in 2011). . . during 2012, Mart received the benefit of the Umu-6, 7 and 8 wells completed in 2011 and Umu-9 well completed in 2012; Umu-9 was an excellent well, flowing a total of 11,718 bbl/d from five sands."
Mart Resources Inc. Content
---