I show a 2-year chart of oil prices below. The main observations show the downtrend was broken, but resistance around US$82 has not been breached. There is solid support around US$65 that has recently been tested four times.
OPEC is not happy with oil in the low US$70s, and they need it in the low US$80s to support their budgets, so we should see continued support there. Reuters reports that the Biden administration hopes to buy back at least 12 million barrels of oil for the Strategic Petroleum Reserve this year, including six million already announced. This will add a little support, but more importantly, it means no more releases from the SPR.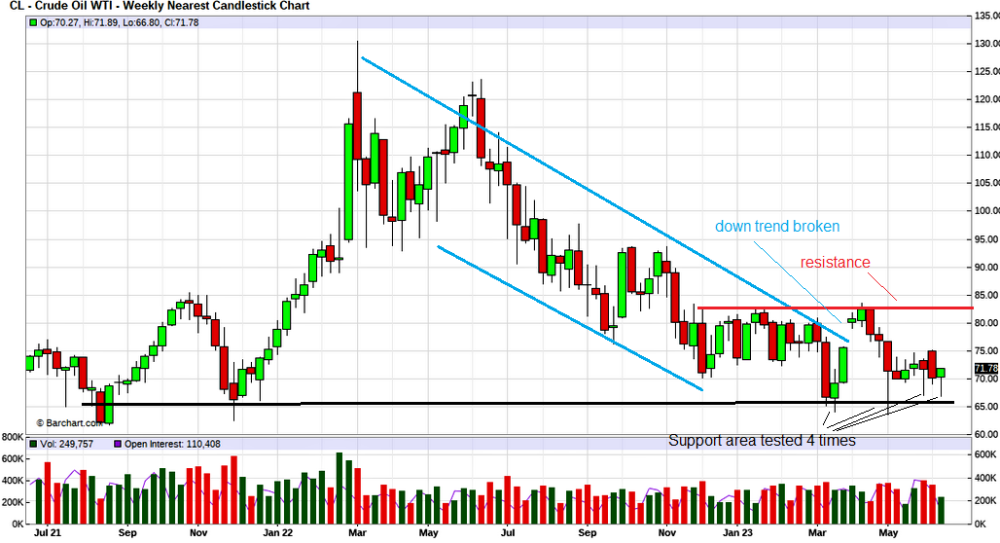 The CPI rose only 0.1% in May, bringing inflation down to 4.0% and below expectations. However, core CPI that the Fed watches more closely was higher than expected, up 0.43% to 5.3% in May.
The headline figure was held down by a 5.6% decline in gas prices. This is the main factor helping headline inflation come down. Note on the chart of Oil above that YOY, we are comparing about US$72 oil in May to US$115 oil last May.
This positive effect on CPI will fade away in the August/September time frame. If oil prices get back into the US$80s, energy prices will be adding to inflation again. You can more easily see the effect on the chart next page, showing energy in the green bars.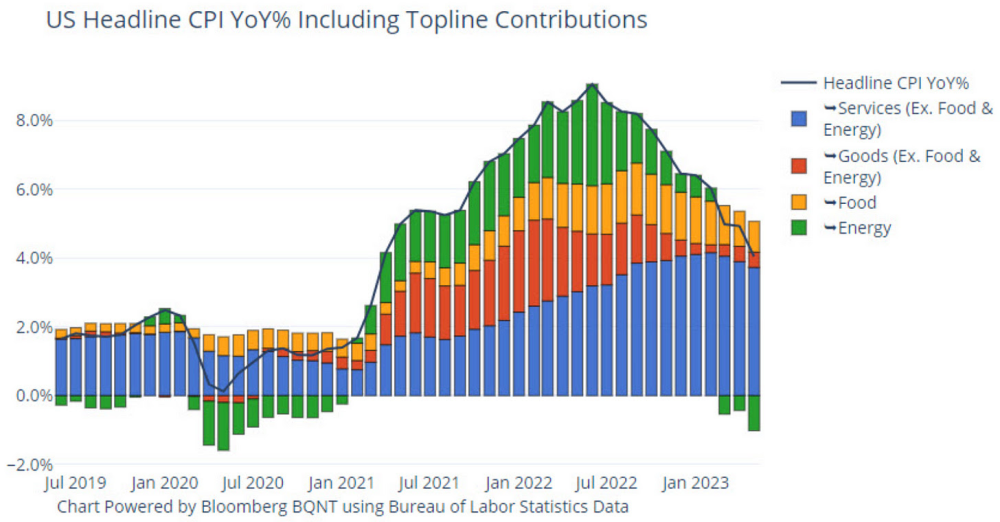 Most Fed members feel more hikes are needed, and none foresee a cut in 2023. J Powell expressed concerns about inflation. He sees more upside risks and believes not enough progress has been made on core PCE, the indicator that the Fed favors.
As you know, I am bullish on energy and believe that the climate scam will soon cause fossil fuel shortages. However, on the inflation front, there is a bigger problem.
A perfect storm of war, drought, and climate scam is brewing that will drive food prices much higher. Let's start with drought. Most of the U.S. Midwest, where most grain is grown, is under very bad drought conditions. Kansas farmers expect the worst wheat crop in 60 years.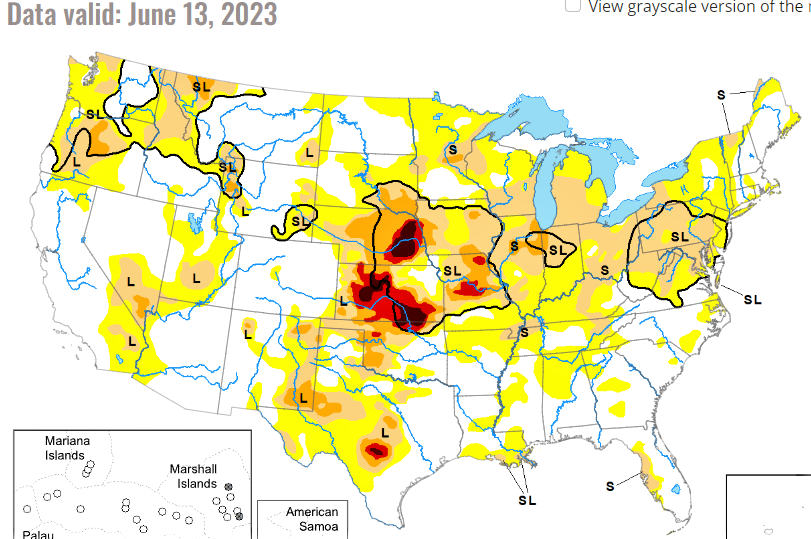 The National Drought Mitigation Center estimates 57% of domestic corn crops and 51% of soybeans are dealing with drought conditions. The U.S. Midwest is hit by the worst drought in 30 years.
Furthermore, Reuters reports the U.S. Beef cow herd is the smallest since 1962. Low demand from Covid lockdowns, now drought, and high feed costs drove producers to send animals to slaughter instead of keeping them for breeding. Pork and poultry do not show any big issues at this time. And it is not only the U.S. as dry weather is set to slash Australia's wheat crop by a third.
China is the world's largest wheat producer and could lose 30 million tonnes this year because of wet weather. This is not a huge deal, but it does not help matters. Russia is the world's largest exporter and produces about the same as the U.S. and as we know, the war has disrupted shipments.
Ukraine is the bread basket of Europe, and its grain crops are severely reduced because of the war. The Kakhovka hydroelectric dam that was let loose was key for irrigation in that area, so that will impact grain production, but the big problem is the front lines of the war is now in the key grain growing areas. Farmers cannot farm in a war zone.
In the map below, the dark green is the area that had the most wheat production on average in the past five years. I roughly drew lines in red that outline the current battle fronts.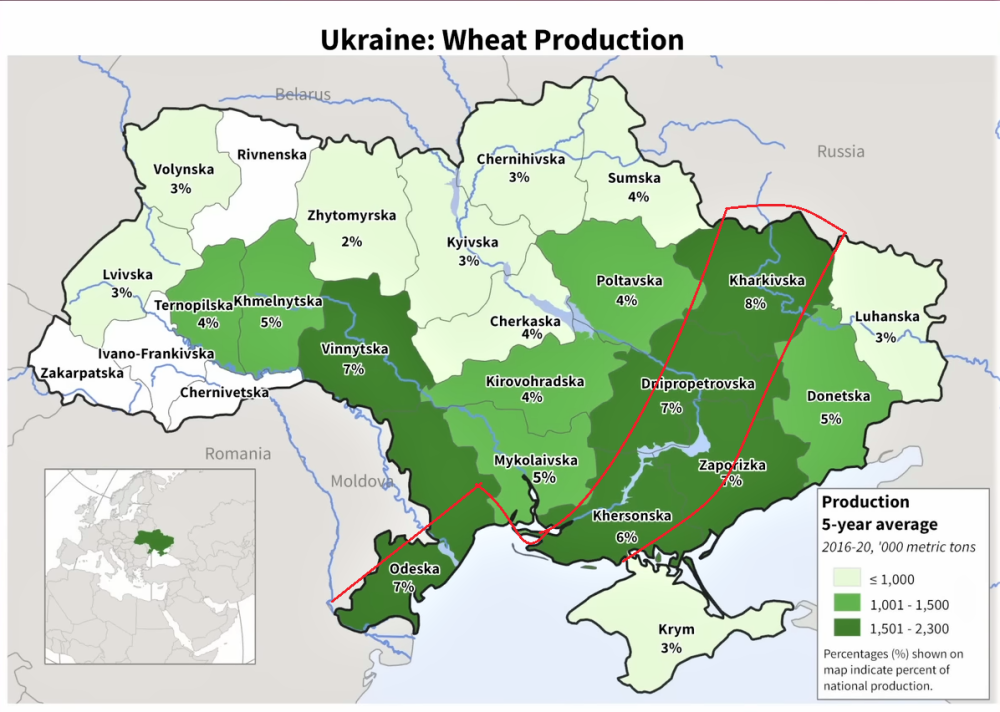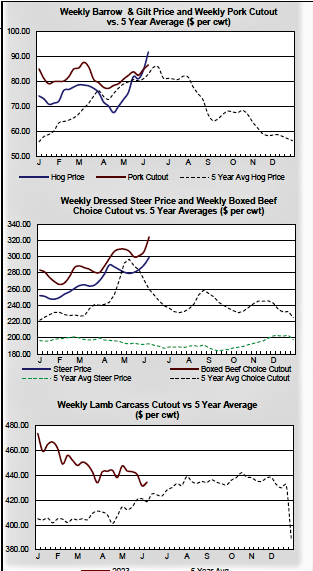 And just at a time when we need more grain production, the far-left climate alarmists are reducing the amount of fertilizer available for crops.
For example, Special President Envoy For Climate John Kerry recently warned at a climate summit for the U.S. Department of Agriculture that the human race's need to produce food to survive creates 33% of the world's total greenhouse gasses.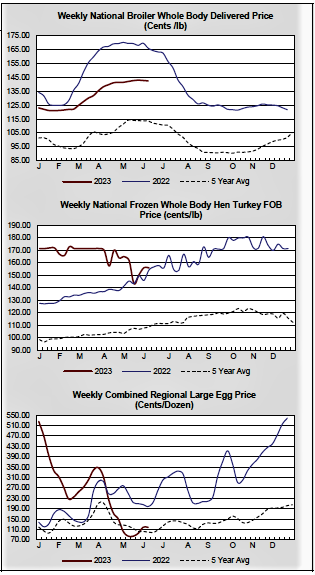 "We can't get to net zero. We don't get this job done unless agriculture is front and center as part of the solution," Kerry said.
In December 2020, the Trudeau government unveiled its new climate plan, with a focus on reducing nitrous oxide emissions from fertilizer by 30% below 2020 levels by 2030.
"Fertilizers play a major role in the agriculture sector's success and have contributed to record harvests in the last decade. They have helped drive increases in Canadian crop yields, grain sales, and exports," a news release from Agriculture and AgriFood Canada reads.
The Dutch government unveiled its nitrogen plan on June 10, 2022.
The goal is ambitious: to reduce nitrogen emissions by 50% by 2030. And the government has released a budget of 24.3 billion euros to make it happen.
Farmers will have to reduce their current high-intensity production and may eventually be expropriated.
These charts above show the various meat and poultry prices, and while most have eased some, especially eggs, they are still well above 5-year averages.
Grain prices have come down from the 2022 peaks driven by Ukraine war fears, but most saw price spikes last Thursday and Friday, and early this week.
Prices have been rising as I put this report together in the last couple of days.
Below is a weekly chart on wheat, and we have had the first good-up move since October 2022.
A close above US$800 would be very bullish and a higher high.
I expect later this Fall season (harvesting) that, prices will be a lot higher, adding to inflation more so.
Fertilizer stocks are the prime beneficiary of rising grain prices as farmers can afford more fertilizer and will apply it to get higher crop yields.
All these stocks are hammered down from last year's highs and now provide a good buying opportunity.
They are trading at low P/E multiples, around 4.0. I am going with Intrepid Potash (IPI) because it is trading at just 0.51 book value, and I like the chart.
Nutrien Ltd. is just 1.43 times its book value, and I like the yield of around 3.6%.
So, I will add that to the Millennium Index as well.
Here is some detail.
Intrepid Potash NY:IPI
Recent Price – US$21.50
Shares Outstanding - 12.7 million
Intrepid Potash Inc. (IPI:NYSE), together with its subsidiaries, engages in the extraction and production of potash in the United States and internationally. It operates through three segments: Potash, Trio, and Oilfield Solutions.
Potash is the common name given to a group of minerals and chemicals that contain potassium (chemical symbol K), which is a basic nutrient for plants and an important ingredient in fertilizer. Most potash is produced as potassium chloride (KCl). Russia and Belarus account for 41% of the globally traded K and are the second and third largest producers.
The fertilizer stocks ran up in 2022, but what the market got wrong was the drop in demand these prices caused. Because of record-high fertilizer prices, farmers across the world cut back on these nutrients, which caused much demand to fall. Farmers could not afford high diesel prices and fertilizer prices too, along with some other supply constraints.
This is coming back into equilibrium in 2023 with lower prices but still strong margins for producers.

Intrepid operates three solar evaporation mines in Wendover and Moab, Utah, and Carlsbad, New Mexico. Solar evaporation ponds provide one of the safest, lowest cost, environmentally friendly production methods for potash and salt.
These locations have the advantages of proximity to western markets and an arid climate, ensuring minimal weather-related delivery days by truck or rail. Intrepid also operates an underground mine in Carlsbad, New Mexico for the extraction of langbeinite, the naturally-occurring mineral they sell as Intrepid Trio. Langbeinite, K2Mg2 (SO4 ) 3, is a unique geological material found only in a few places in the world.
Highly prized as an all-natural fertilizer with international demand, Intrepid's mine in Carlsbad sits on one of the world's largest known reserves of langbeinite.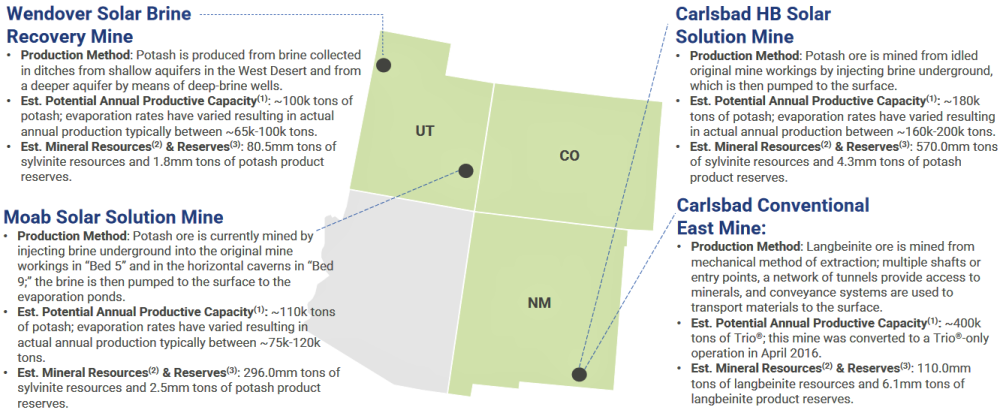 Potash sales in Q1 2023 were 89,000 tons that were 40% of total 2022 sales, and 69,000 tons Trio, which was 30% of 2022 sales. Sales volume was down in 2022 because of high prices, and you can see that sales volumes all already jumping up in 2023. They have had some issues that have reduced Potash production, but these have been remedied and should start having an effect of increasing production in the second half of 2023.
This update on their operations is from their Q1 results and highlights the plans to improve operations.
East Facility in Carlsbad, New Mexico — The first of the two new continuous miners at their East plant has been delivered and is expected to improve operating efficiency in the coming months. The second new miner is scheduled for July delivery and should be operational by the middle of the third quarter.
HB Facility in Carlsbad, New Mexico — A new injection pipeline installation continues to make progress despite permitting delays.
IPI expects the pipeline to be in place by the end of the second quarter, with improved brine injection rates starting in the second half of 2023. To target high-grade brine in the near term, IPI is undertaking a new, lower-cost capital project to extract a pool of already-known, high-grade brine from the HB Eddy shaft. Permitting and construction are both underway, with operations expected to commence in Q4/23.
A replacement extraction well designed to have a long-term operational life to target brine from the HB mine system may get pushed to 2024 due to the HB Eddy shaft project.
Solar Solution Potash Mine in Moab, Utah — IPI successfully drilled a new three-lateral potash cavern in Potash Bed 9, which is expected to be online in the second quarter. During the drilling process, IPI was able to stay in the target interval for longer than any of our previously drilled horizontal caverns, and initial measurements show good availability of high-grade potash.
After IPI completed the drilling of the new potash cavern, they moved the rig to drill into the original mine workings in Potash Bed 5 to target low spots ("sumps") that they believe contain high-grade brine pools. This brine was previously accessed by a vertical well, but by now using horizontal laterals, IPI can more effectively target the resource. The goal is for a July 2023 completion, which will allow IPI to pump this brine into our solar ponds for the latter part of the 2023 evaporation season.
Sand Resources at Intrepid South — IPI continues to work through the permitting process for the sand project and expects construction to begin by the end of 2023.
Financials
IPI had total sales in Q1 of US$86.9 million, which compares to US$104.4 million in the first quarter of 2022, as Potash and Trio® average net realized sales prices decreased to US$485 and US$344 per ton, respectively. Net income was US$4.5 million (or US$0.35 per diluted share), which compares to US$31.4 million in the first quarter of 2022 (or US$2.31 per diluted share).
Intrepid has no long-term debt, a rarity in the natural resources space. As of April 28, 2023, Intrepid had approximately US$9.5 million in cash and cash equivalents and US$150 million available under its revolving credit facility for total liquidity of approximately US$159.5 million. A debt-free balance sheet allows capital optionality, with the excess cash being available for growth projects or capital return to shareholders.
Marketwatch shows a 3.95 P/E, 4.32 times cash flow, and 0.51 to book value. I believe the stock is oversold because of the volatile prices and the added problem IPL had with production down.
On the chart, the stock is down to lows last seen in 2016 and 2020. The stock bottomed with a doji morning star reversal pattern with a US$17.23 low on June 1. These are strong reversal patterns, and I expect that was the bottom in the one and half year sell-off. The pattern is not evident on this longer-term chart, but you can see it on a 1-year or 6-month chart. There is not much resistance until the US$26 area.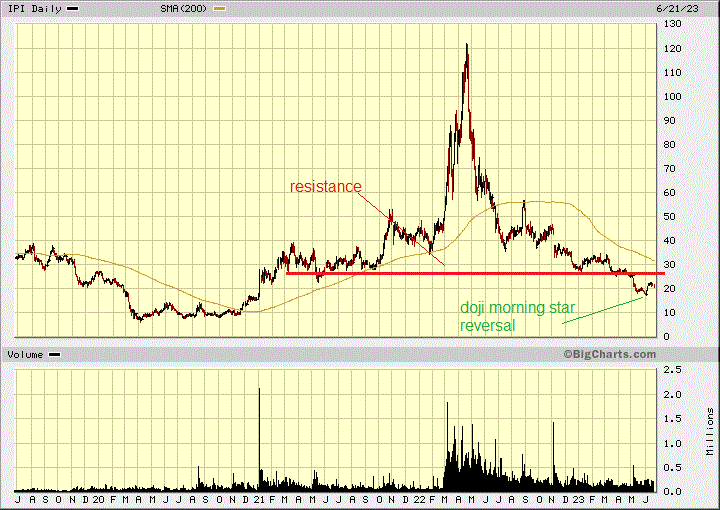 Nutrien Ltd. NY:NTR TSX:NTR
Recent Price – US$60.60
Shares Outstanding – 496 million
Dividend – 3.5%
Nutrien Ltd. (NTR:NYSE) provides crop inputs and services. The company operates through Retail, Potash, Nitrogen, and Phosphate segments. Nutrien is the world's largest potash producer, with over 20 million tonnes of potash capacity at their six lower-cost potash mines in Saskatchewan. NTR has decades of high-quality reserves, and a multi-year expansion is complete.
NTR is well-positioned to meet the world's long-term potash needs. Nutrien is the third-largest nitrogen producer in the world, with over 7 million tonnes of gross ammonia capacity and the ability to produce more than 11 million tonnes of total nitrogen products in the U.S., Canada, and Trinidad. Nutrien's nitrogen production network is low-cost and diversified, with opportunities to execute high-return and low-risk brownfield projects.
They can expand production while significantly lowering their carbon footprint. As part of this effort to reduce the carbon footprint of the nitrogen operations, we at NTR have focused on energy efficiency, carbon capture, and CO2 abatement.
Nutrien operates two large integrated phosphate mining and processing facilities and four regional upgrading plants in the U.S. As the second largest phosphate producer in North America, Nutrien sells approximately 3 million tonnes of finished product annually. Nutrien is self-sufficient in phosphate rock, with access to high-quality, integrated phosphate rock reserves that allow for the production of a diverse and premium portfolio of phosphate products, including solid and liquid fertilizers, feed, and industrial acids.
The NTR network of over 2,000 retail locations in seven countries provides a wide range of products and services to help growers around the world feed the future. We provide our customers with complete agriculture solutions, including nutrients, crop protection products, seeds, services, and digital tools. They are the dominant fertilizer company in North America, as you can see in the map below.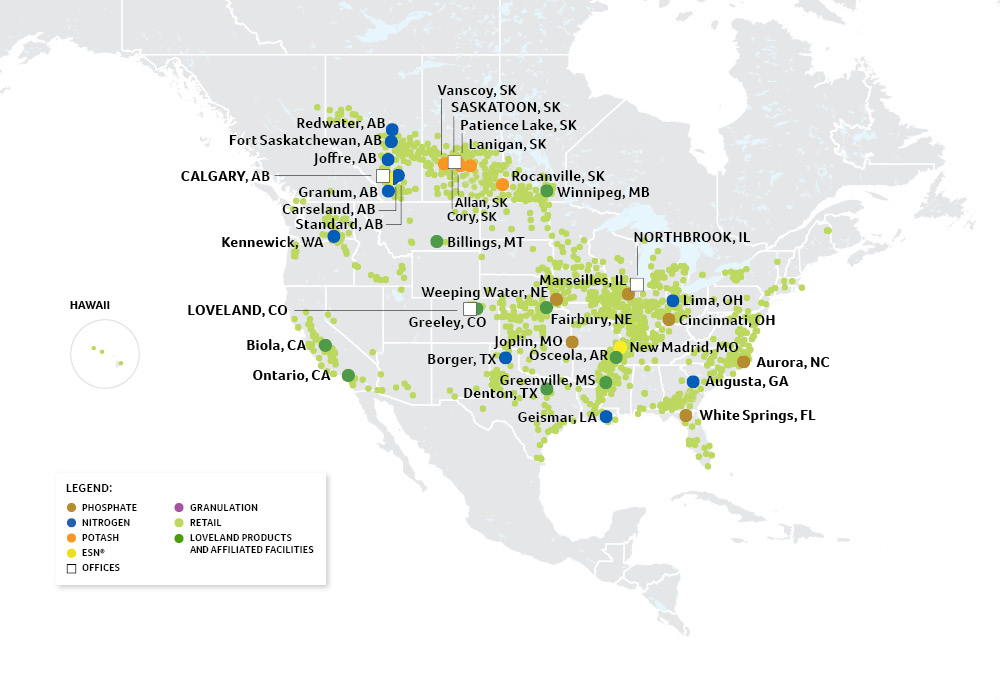 NTR reported their Q1 2023 results on May 10, and naturally, they were down from record levels in 2022:
Nutrien Ag Solutions (retail) adjusted EBITDA (earnings before interest, taxes, depreciation, and amortization) declined to US$(34) million in the first quarter of 2023 primarily due to lower sales and gross margins for crop nutrients and crop protection products compared with the record levels achieved in 2022. Crop nutrient margins were below normalized levels in the first quarter as prices declined and the company worked through higher cost inventory;
Potash adjusted EBITDA declined to US$676 million in the first quarter of 2023 due to lower net realized selling prices and lower sales volumes. North American sales volumes were impacted by just-in-time buying. Lower offshore demand from customers in Asia was largely offset by record first quarter Canpotex sales volumes to Brazil;
Nitrogen adjusted EBITDA declined to US$676 million in the first quarter of 2023 due to lower net realized selling prices for all major nitrogen products. This was partially offset by lower natural gas costs and increased operating rates at the company's North American nitrogen plants;
Nutrien repurchased 11.8 million shares year to date as of March 31, 2023, under its normal course issuer bid programs, for approximately US$900 million. The company's total shares outstanding declined to 496 million as at the end of the first quarter of 2023, representing a 10% reduction compared with the same period in 2022;
Nutrien full year 2023 adjusted EBITDA and adjusted net earnings per share guidance was revised to US$6.5 billion to US$8.0 billion and US$5.50 to US$7.50 per share, respectively.
NTR's financial guidance from their Q1 report:
Based on market factors detailed herein, the company is revising full-year 2023 adjusted EBITDA guidance to US$6.5 billion to US$8.0 billion and full-year 2023 adjusted net earnings guidance to US$5.50 to US$7.50 per share. The company now projects cash from operations of US$5.0 billion to US$5.8 billion, which is expected to be relatively stable due to an anticipated release in working capital.
"Crop input demand has strengthened as the spring planting season progresses in the northern hemisphere, and higher cost inventory is moving through the channel. We are encouraged by the continued stabilization of fertilizer markets following a year of unprecedented volatility and anticipate increased demand in the second half of 2023 due to strong agriculture fundamentals, improved grower affordability, and lower inventory levels. With fertilizer prices near mid-cycle levels, we expect to generate strong operating cash flows in 2023 and to maintain a balanced and disciplined approach to capital allocation," said CEO Ken Seitz.
Nutrien is now trading near a multiyear low after reaching CA$148 in early 2022. The company reported lower-than-expected earnings in the first quarter as a result of lower selling prices in all areas, and lower sales volumes in retail, potash, and phosphate. The company expects fertilizer prices to stabilize and expects increased demand in the second half of 2023 as a result of strong agricultural fundamentals. I expect we could even see fertilizer prices rise some.
Market Watch shows the stock trading at a 4.2 current P/E, 5.06 times cash flow, and 1.43 book value. I see 2023 EBITDA as a little higher than the US$7.2 billion guidance midpoint and expect US$7.00 earnings per share which is about 8.7 P/E. NTR is now paying US$0.53 quarterly dividend, and the record date for the current dividend is June 30, so if you own the stock by then, you can catch the current quarterly dividend.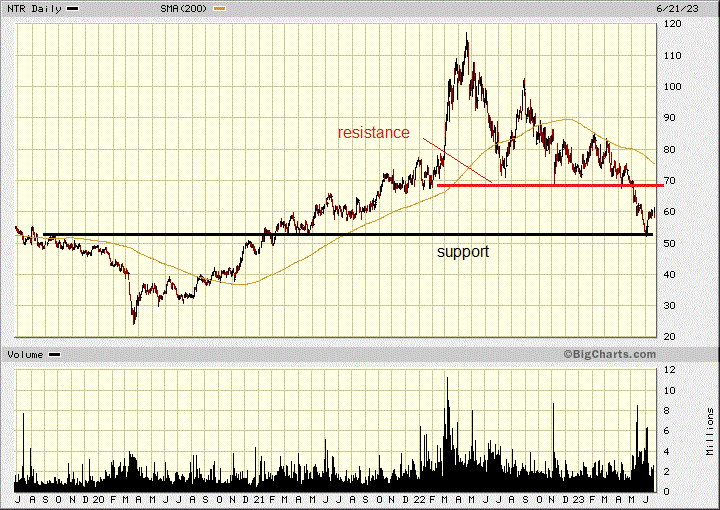 On the chart, it appears the stock bottomed at support levels going back to 2019. There is mild resistance around $60 and more significant resistance around the US$70 area.
I looked at Call Options, and the premiums are pretty high. However, if you go out to January 2025, which is about one-and-a-half years, the premiums should not erode much if you trade out in six to nine months or sooner. I like the January 2025 US$70 Call for about US$7.00; it has the highest open interest of over 1,000 contracts.
If there are shortages and high prices in grains, as I expect, NTR could easily get back to the US$85 to US$100 area.
Greenbriar TSXV:GRB OTC:GEBRF
Recent Price - US$0.87
Entry Price - US$1.15
Opinion – Strong Buy under US$1.05
The stock for Greenbriar Capital Corp. (GRB:TSX.V; GEBRF:OTC) has hit lows not seen since the 2020 Covid panic, and I believe it bottomed with a hammer candle stick on June 7.
I did an interview with CEO Jeff Ciachurski yesterday, and he indicated the news that will kick off Sage Ranch construction could come as early as July.
Like many, the stock is way oversold, but it is also not well understood because you never see a large real estate development in a junior company; things like this are most common with Real Estate REITs.
Greenbriar Capital California Sage Range Update — YouTube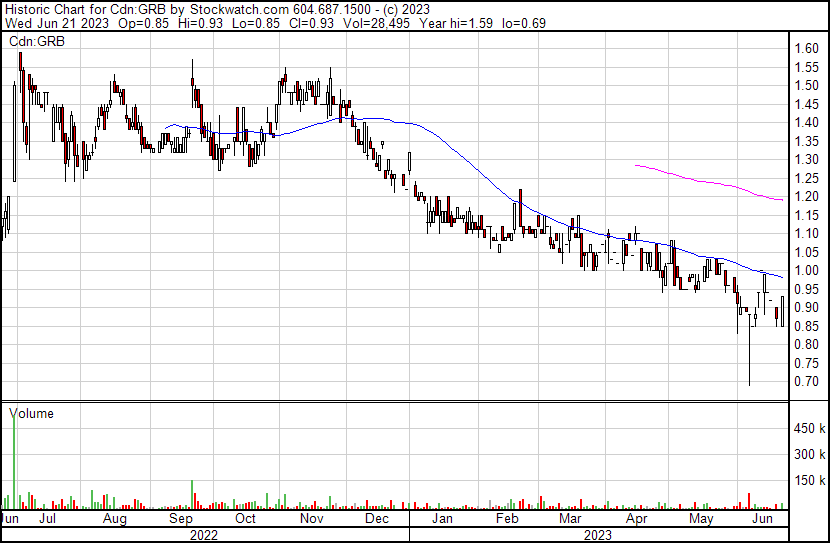 | | |
| --- | --- |
| Want to be the first to know about interesting Potash investment ideas? Sign up to receive the FREE Streetwise Reports' newsletter. | Subscribe |
Important Disclosures:
As of the date of this article, officers and/or employees of Streetwise Reports LLC (including members of their household) own securities of Greenbriar Capital Corp.
Ron Struthers: I, or members of my immediate household or family, own securities of: Greenbriar and Nutrient. My company has a financial relationship with: Greenbriar is a paid advertiser on the playstocks youtube channel. I determined which companies would be included in this article based on my research and understanding of the sector.
Statements and opinions expressed are the opinions of the author and not of Streetwise Reports or its officers. The author is wholly responsible for the validity of the statements. The author was not paid by Streetwise Reports for this article. Streetwise Reports was not paid by the author to publish or syndicate this article. Streetwise Reports requires contributing authors to disclose any shareholdings in, or economic relationships with, companies that they write about. Streetwise Reports relies upon the authors to accurately provide this information and Streetwise Reports has no means of verifying its accuracy.
This article does not constitute investment advice. Each reader is encouraged to consult with his or her individual financial professional. By opening this page, each reader accepts and agrees to Streetwise Reports' terms of use and full legal disclaimer. This article is not a solicitation for investment. Streetwise Reports does not render general or specific investment advice and the information on Streetwise Reports should not be considered a recommendation to buy or sell any security. Streetwise Reports does not endorse or recommend the business, products, services or securities of any company.
For additional disclosures, please click here.
Struthers Resource Stock Report Disclosures
All forecasts and recommendations are based on opinion. Markets change direction with consensus beliefs, which may change at any time and without notice. The author/publisher of this publication has taken every precaution to provide the most accurate information possible. The information & data were obtained from sources believed to be reliable, but because the information & data source are beyond the author's control, no representation or guarantee is made that it is complete or accurate. The reader accepts information on the condition that errors or omissions shall not be made the basis for any claim, demand or cause for action. Because of the ever-changing nature of information & statistics the author/publisher strongly encourages the reader to communicate directly with the company and/or with their personal investment adviser to obtain up to date information. Past results are not necessarily indicative of future results. Any statements non-factual in nature constitute only current opinions, which are subject to change. The author/publisher may or may not have a position in the securities and/or options relating thereto, & may make purchases and/or sales of these securities relating thereto from time to time in the open market or otherwise. Neither the information, nor opinions expressed, shall be construed as a solicitation to buy or sell any stock, futures or options contract mentioned herein. The author/publisher of this letter is not a qualified financial adviser & is not acting as such in this publication.